Posts by Professor Simon Ray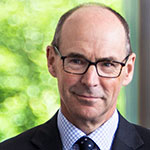 Professor Simon Ray, President of the British Cardiovascular Society, 2018-2021.
Simon graduated from Bristol University in Pharmacology in 1980 and in Medicine in 1983. After HO jobs in Bristol and medical SHO and registrar jobs in Glasgow and Edinburgh he completed his MD as a BHF funded research fellow with Prof Henry Dargie in Glasgow.
He continued cardiology training at the Freeman Hospital in Newcastle before moving to CTC Liverpool as a senior registrar in 1992. From 1994-95 Simon was an interventional cardiology fellow in Vancouver BC with Ian Penn, Chris Buller and Donald Ricci before appointment as consultant cardiologist at Wythenshawe Hospital in 1995.
His clinical and research interests have focussed around valve disease, PFO, cardiac involvement in neuromuscular disease and more recently cardio-oncology. Simon was clinical director of cardiology at UHSM from 2006-2009, President of the British Society of Echocardiography 2007-2009, Vice President of the British Cardiovascular Society for clinical standards from 2010-2013 and President of the British Heart Valve Society from 2013-2016.
Currently he is joint national lead for Cardiology GIRFT.
Simon was appointed Honorary Professor of Cardiology in 2011.