Posts by Rachel Bassett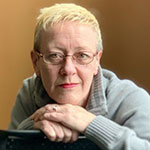 Rachel is 47 and lives with her husband and her dog. She has now been sober for 18 months.
She volunteers with the Sandwell and West Birmingham Hospitals Trust working with the alcohol team that saved her life. Though she feels she can never repay them enough, it is her way of saying thank you for all the hard work they do and hopefully, helping patients that are in the same position as she was.
She is enjoying life again. Has started baking again and is happily sleeping in her own bed. Her mood and physical health are so much better and she is enjoying the feeling that the people she loves are not having to worry about her anymore.