Posts by Ray James CBE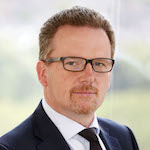 Ray brings a wealth of experience and knowledge from a career in local government to his role leading NHS England's work to transform care for people with a learning disability and their families/carers.
He has served as Executive Director of Health, Housing and Adult Social Care at Enfield Council for over a decade and is a Past President of the Association of Directors of Adult Social Services (ADASS). Ray was awarded a CBE for services to Adult Social Care in the 2018 New Year's Honours List.
His Local Government career began in 1984 as a Scale 1 Clerical Officer and after working in three other London boroughs he joined Enfield in 1991 where he was appointed as Director in 2006 . Enfield is a multi-award winning North London Council, it's growing reputation for adult social care reflected in national recognition in respect of safeguarding, independent living, community involvement and transition amongst other issues. Ray has always championed the insight and expertise of people with lived experience and their families. He has consistently sought greater recognition for the front line care and support workforce.
He has held a number of roles within ADASS including Chair of the London Region, National Lead for the Regions and President. His background in Commissioning has led to extensive work on national policy issues in this area.
Ray was born and raised in the East End of London, his family and Irish Ancestry are very important to him. Ray's studies have included dual professional qualifications and a Masters in Leadership.