Posts by Richard Fluck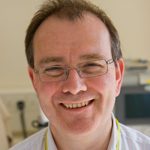 Richard Fluck was National Clinical Director for Renal Disease for NHS England.
Richard trained at Trinity Hall, Cambridge and the London Hospital Medical College, qualifying in 1985. Early training was undertaken in the East London area before moving into research at St Bartholomew's Hospital. He was appointed a British Heart Foundation fellow whilst exploring the link between cardiovascular disease, calcium signalling and abnormalities of calcium metabolism in chronic kidney disease. He returned to the Royal London Hospital as Lecturer and honorary Senior Registrar in Nephrology
In 1996 Richard took up post at Derby City Hospital as a single handed nephrologist. Over the next decade, the department expanded and developed a strong clinical research and safety programme. As a whole, the department has interests in cardiovascular consequences of CKD and dialysis, infection and vascular access. As part of the team, he is involved in the coordination of two cohort studies looking at chronic kidney disease in primary care (RRID) and the short and long term consequences of acute kidney injury (ARID). More recent projects include the development of PROMs for renal patients and developing home therapies for patients on dialysis.
Within the acute trust he has been clinical lead for renal disease for 15 years and clinical director for medicine. He has been the clinical lead for the East Midlands Renal Network and worked with the DH and HPA on infection in renal disease. He was also the clinical lead for the Kidney Care National audit on vascular access and transport in the haemodialysis population.