Posts by Rob Dyer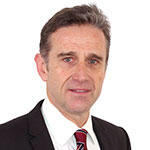 Dr Rob Dyer is the Medical Director for Torbay and South Devon NHS Foundation Trust and also the Lead Medical Director for the Devon Sustainability and Transformation Partnership.
A Consultant Physician and Endocrinologist, Dr Dyer trained in Birmingham and Newcastle and has been a consultant since 1994, first in Northumberland and Newcastle, and from 1998 at Torbay Hospital. His clinical specialisms are in diabetes, endocrinology and thyroid problems.
Dr Dyer also holds the position of Associate Medical Director for Long Term Conditions and Transformation and has a long-standing interest in integrated care models, patient self-management and prevention in long term conditions. He has experience of management of acute medical admissions and sub-specialty endocrine and thyroid cancer management.
As Medical Director he plays a key role at Board level, and as part of the Executive Team, in influencing and shaping the Trust's strategic direction and in driving improvement in quality and safety.
In his Lead Medical Director role for the Devon Sustainability and Transformation Partnership he chairs the Clinical Cabinet, which brings together medical directors and clinicians from across the health system.