Posts by Rob Music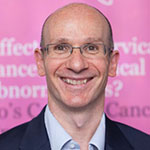 Rob Music is Chief Executive of Jo's Cervical Cancer Trust.
He joined the organisation in September 2008. The charity has seen positive change including income increasing by over 600%, developing new support services and a wide range of popular health information.
It has also implemented a major rebrand and run high profile awareness campaigns. Additionally the charity has built positive relationships with key funders, media, policy and health influencers and Rob sits on a number of influential committees.
This year the charity was named a winner of a GSK Impact Award, run in partnership with The King's Fund that recognises outstanding work of health care charities.