Posts by Rowan Munson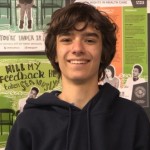 Rowan is committed to making sure young people are heard in healthcare issues. For six years he has represented young people, locally at the district and county councils, Patient Participation Groups & his Clinical Commissioning Group, including founding Surrey's youth representation platform.
He says his interest in health issues started after he was ping-ponged through several departments, in several organisations.
After the publication of the Chief Medical Officer's "Prevention Pays – Our Children Deserve Better" report, he took up the mandate to ensure that services meet the needs of young people.
He is looking forward to helping put young patients at the heart of services for children and young people.