Posts by Sam Ward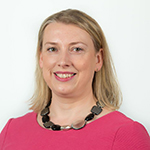 Sam Ward is the Director of Commissioned Services for Royal Voluntary Service, one of the country's largest volunteering organisations.
She provides the strategic direction for service provision supporting people to age well and for the charity's work within the NHS, supporting those in critical life events.
Sam is also responsible for our Services Welfare work, a legacy service which provides much needed help to young personnel in Britain's Armed Forces.
Since joining the charity in 2000, Sam has had a number of roles at the charity from managing projects for community development and change to overseeing portfolios within the charity's hospital retail estate.