Posts by Scott Watkin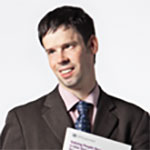 Scott Watkin works for SeeAbility as a Senior Learning Disabilities Advisor and is a visiting lecturer at the University of Hertfordshire working with the learning disability nurses. Since October 2015 Scott has also been co-chair of the Transforming Care Assurance Board to help reduce the number of people with a learning disability staying in hospital.
Scott won the making a difference award at the national learning disabilities awards in 2017 and represents organisations and professionals on the representative body for Learning Disability England.
You can follow @scottwatkin on Twitter