Posts by Shehan Hettiaratchy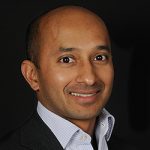 Shehan Hettiaratchy is the clinical lead for the Veterans Trauma Network.
He is the Lead Surgeon and Major Trauma Director at Imperial College Healthcare NHS Trust in London.
He has developed the VTN together with Richard Swarbrick, National Lead Armed Forces and Families & MOD Health Transition, NHS England.
Shehan has served in the British Army since he left school and is currently a reservist serving with Airborne Forces. He was deployed to Afghanistan twice.