Posts by Simon Cramp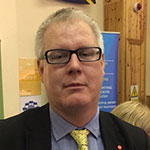 Simon Cramp lives in Chesterfield where he promotes the rights of disabled people at every opportunity.
He has a learning difficulty himself, and works with people with learning disabilities, helping them get the right support and information. He offers expert advice on all issues to do with learning disability and has extensive experience working as a consultant throughout the learning disability sector and was an early member of the National Forum for People with Learning Disabilities.
Simon has a great interest in politics and political structures and has always been keen to get involved to make things better. He is also a powerful advocate on making writings accessible and he worked for several years as a member of the advisory committee on older and disabled people for Ofcom. He has also worked at a senior board level for two major learning disability organisations.
Simon has been an important advocate for personalisation and co-authored a key paper on supported decision-making with Simon Duffy in 2004.