Posts by Suzanne Simpson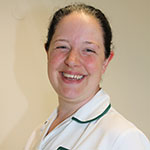 Suzanne Simpson qualified as an occupational therapist in 2004 from Salford University having completed a Psychology degree at the University of Central Lancashire prior to this, and completed an MRes at Edge Hill University in 2018.
She has worked predominantly in neurosciences for the past eleven years in a variety of settings.
Suzanne is employed by The Walton Centre a Neuro Specialist Hospital based in Liverpool, in a unique role funded by the MND Association aimed at improving the psychological wellbeing of people living with MND.
She splits her time between this role, acting as the trust lead for Making Every Contact Count and carrying out her research.
Suzanne was a finalist at the 2018 North West Coast Research and Innovation Awards in the category 'Research Student of the Year' and was recently awarded an NHS R & D North West HEE/NIHR Pre-Doctoral Bridging Scheme.