Posts by Tom Lindley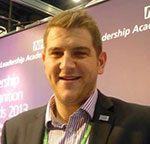 Interim Deputy Director – Strategy and Business Development Airedale NHS Foundation Trust.
Tom launched his NHS career with a number of roles as a mental health nurse, before joining the NHS Graduate Management Training Scheme. After roles working for Rotherham, Doncaster & South Humber NHS Foundation Trust; NHS England; and the Yorkshire and Humber Academic Health Science Network, he joined Airedale NHS Foundation Trust earlier this year and is closely involved in advancing the potential of its expanding range of telemedicine services.
The Foundation Trust has the lead role in the Airedale and Partners vanguard, which is using telemedicine in more than 200 care homes to help reduce GP call-outs and unnecessary hospital admissions for a cohort of more than 7,000 residents.