Posts by Trevor Beswick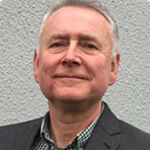 Trevor Beswick started his career in hospital posts before joining the South Western Regional Health Authority in education and training and medicines information.
In 1993 he took up the post of South West Regional Pharmaceutical Adviser, followed by a post at Bristol Primary Care Trust as Head of Medicines Management and then as Associate Director of Primary Care Commissioning.
He took a specialist regional pharmacy role in medicines information and education and training at South West Medicines Information and Training and then joined HEE's South Region in August 2017 and has been working on a range of national and regional projects including:
• Advanced Clinical Practitioner Framework
• The review of pharmacy education and training
• Reforming pre-registration pharmacist support in HEE South
• Education quality
• Medication safety education and training
• Supporting advanced and consultant pharmacy practice
• Apprenticeships for pharmacy technicians
• Pharmacy workforce data and intelligence.