Posts by Vaughan Lewis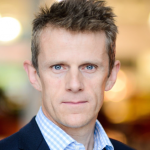 Dr Vaughan Lewis FRCPCH: Regional Medical Director, higher level Responsible Officer and Chief Clinical Information Officer | NHS England (South East).
Vaughan trained in Oxford, Bristol and Australia. He was a consultant paediatrician in Exeter from 2002 to 2015 during which time he held clinical management roles including Trust Medical Director and Chair of the South West Clinical Senate. In 2015, he was appointed as the NHS South Regional Medical Director for Specialised Commissioning.
As South East Regional Medical Director his roles include providing clinical leadership and support to NHS organisations and system leaders across the South East including Cancer Alliances, Academic Health Science Networks, Integrated Care Systems, Clinical Networks and Senates as well all NHS provider organisations.
The Regional Medical Director is also the higher level Responsible Officer. This is an important assurance role, ensuring, on behalf of NHS England, that doctors working in any setting in the region are supported to comply with GMC requirements for medical revalidation.
Vaughan is also the Chief Clinical Information Officer (CCIO) and will be working with the regional digital team to deliver a wide-ranging programme to upgrade technology and digitally enabled care across the NHS as set out in the Long Term Plan