Posts by Victoria Treadway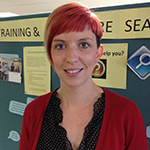 Victoria Treadway, MA, MCLIP, has worked in NHS library and knowledge services since 2004, working alongside healthcare professionals and teams to understand their knowledge requirements and deliver accessible and responsive library and knowledge services.
She is currently Knowledge Management Facilitator at NHS RightCare. Victoria is undertaking research to explore the role of the embedded librarian in supporting healthcare professionals, patients and families in Critical Care.
Her professional interests include informal networks (such as communities of practice) and demonstrating the impact of library and knowledge services.