New campaign can lure young people to NHS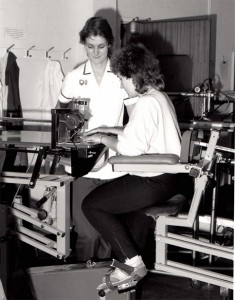 NHS England's Chief Allied Health Professions Officer explains why she is playing her part in helping sell the Health Service to a new generation:
I was delighted to be asked by the Chief Executive of NHS Employers, Daniel Mortimer, to write a blog as part of a fascinating series being run by his organisation.
The theme of the new social media campaign is #nhswhereIstarted and aims to encourage NHS staff, HR directors and the wider NHS community by sharing their own story of where they started in the NHS to inspire public conversations around employing young people.
The first blog in the series was by none other than Daniel Mortimer himself and NHS Employers is delivering this campaign as part of ThinkFuture, part of Health Education England's Talent for Care and Widening Participation programmes.
The Think Future programme aims to support employers in the NHS to bring more young people into the NHS workforce and the key messages of #nhswhereIstarted support this by explaining:
Many of today's leading figures in healthcare began their careers as young people in the NHS.
It's not just about doctors and nurses – the NHS offers a wide range of exciting jobs and is the perfect place for young people to start their careers.
Young people have the skills, energy and innovation to make a real difference to the NHS
The reason I am so delighted to be invited to tell my own story is that where better to start than with the Allied Health Professions?
AHPs typify the breadth, diversity and versatility of the sorts of careers within the NHS that offer young people fantastic opportunities of fascinating and highly rewarding careers.
The umbrella of the Allied Health Professions covers no less than art therapists, drama therapists, music therapists, chiropodists/podiatrists, dietitians, occupational therapists, orthoptists, prosthetists and orthotists, paramedics, physiotherapists, diagnostic radiographers, therapeutic radiographers, speech and language therapists.
It's difficult to think of a more diverse, challenging and fulfilling group of careers to tempt young people into working in the health service.
So, to fulfil my commitment to this campaign, I should give you my story.
Where did I start? Well, I began my NHS career at the age of 21 as a support worker (Technical Instructor) at Poole General Hospital. This was whilst awaiting my professional qualification results and granting of professional registration to practice.
I had wanted to work in the NHS from the age of 11. My grandfather came to live with us on my seventh birthday, after my grandmother died. He had Alzheimer's.
Latterly I helped with all his care, as he was bed bound, doubly incontinent and unable to feed himself. He died when I was 12, but the year before that, he was visited by a member of medical staff who spoke to my mother in a way that made me feel that I really could do better.
On my first day in the NHS I was full of anticipation, because right from the start I wanted to make a difference. This feeling remains with me to this day. It is what has underpinned my whole career.
The photograph was taken at Poole General Hospital, during my first Basic Grade Occupational Therapist rotation after qualifying, in a heavy workshop environment. This focused on rehabilitating people to return to employment, caring or voluntary work after acute 'events' such as road traffic accidents or strokes and elective procedures such as orthopaedic or neurological surgery.
The beauty of Occupational Therapy is that it one of the very few professions where you qualify BOTH in mental health AND physical medicine. Most other professions – such as nursing – you have to do one or the other or retrain so you can do both. That therefore means, as a result, you have more career options open to you as an OT.
My background as an Allied Health Professional has given me the grounding to hold other key roles in the service: I have been proud to hold Director of Nursing roles in both provider and commissioning organisations, leading truly multi professional teams.
And a memorable moment came during the London 2012 Olympics, when I was the Primary Care Trust Chief Executive in Dorset, where the Olympic sailing events were being held in Weymouth and Portland. I was responsible for co-ordinating the health response in the event of an emergency, and provide access to healthcare for all Olympic VIPs, competitors, spectators and local residents during this time.
We were commended for our work across many agencies and I learned a great deal about the work of our other partners, including the military, the Environment Agency and Local Authorities.
The NHS needs more young people to reflect that we serve the whole population throughout the 'life course'. Their fresh ideas are vital to designing and delivering new, innovative services.
As I have found, the NHS – particularly working as one of the twelve allied health professions – can offer extremely rewarding and ever-changing careers, which develop as you do.
If you want a career that allows you to make a real difference to people's lives and offer you the basis for other varied career options in the future; the 12 Allied Health Professions all allow you to do that.
I hope you will all help spread the word to young people who are thinking about what careers they embark on…