Integrated Personal Commissioning (IPC) Programme
What is Integrated Personal Commissioning (IPC)?
Integrated Personal Commissioning (IPC) is a partnership programme between NHS England and the Local Government Association. It is a pillar of the NHS Five Year Forward View, and supports the improvement, integration and personalisation of services, building on learning from personal budgets in social care and progress with personal health budgets.
Through IPC, individuals, their carers and families can take an active role in their health and wellbeing, with greater choice and control over the care they need through personalised care planning and personal budgets.
Alongside this, IPC also supports people to develop their knowledge, skills and confidence to self-manage their care, through stronger partnerships with the voluntary and community sector (VCSE), community capacity building and peer support.
This short film explains the key elements of IPC:
Areas implementing IPC
Following a rigorous shortlisting and interview process in 2015, a number of sites were selected to be IPC "Demonstrators", and lead the way in redesigning the model of care for people with complex needs in England.
Gloucestershire, Northern Eastern and Western (NEW) Devon, Somerset and South Devon and Torbay joined the programme in late 2016 as full Demonstrators, building on the work of the South West consortium's programme.
The Demonstrators are:
Gloucestershire
Northern, Eastern and Western (NEW) Devon
Somerset
South Devon and Torbay
In late 2016, additional areas joined the programme as "Early Adopters", representing the first stage of national roll-out for IPC. These additional areas now implementing IPC are:
All IPC sites are committed to:
Implementing IPC as the approach to supporting people with complex needs in their area,
Working in partnership with NHS England and the LGA to refine and implement the IPC Emerging Framework, including alignment with New Care Models
Taking a lead role on behalf of their local Sustainability and Transformation Plan (STP) footprint area, and disseminating learning to support wider adoption of IPC across the footprint.
Who's benefitting from IPC?
All Demonstrators and Early Adopters are working with one or more of the following cohorts of individuals, who typically have high levels of need, which often span both health and social care:
Children and young people with complex needs, including those eligible for education, health and care (EHC) plans
People with multiple long-term conditions, particularly older people with frailty
People with learning disabilities with high support needs, including those who are in institutional settings or at risk of being placed in these settings
People with significant mental health needs, such as those eligible for the Care Programme Approach (CPA), or those who use high levels of unplanned care.
How IPC is being delivered
IPC is networked model of care, delivered through enhanced multi-disciplinary teams that draw together generalist, social, mental and specialist care with the voluntary sector, usually located in general practice.
The IPC approach is characterised by five key shifts in people's experience of care, brought about through the adoption of specific service components. Together these components drive improved outcomes for people, the system and the tax payer, delivering better quality of life, reductions in unplanned care and enhanced experience of health and care services.
The five key shifts of IPC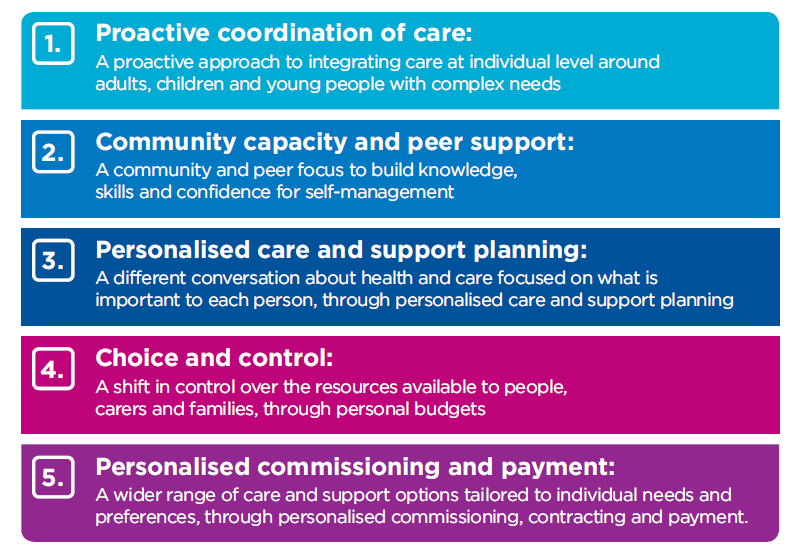 In May 2016, based on learning from the first year of the programme, the IPC Emerging Framework was published by NHS England and the Local Government Association (LGA).  The framework describes the five key shifts in more detail, as well as the underlying changes needed at service level to deliver IPC.
Further guidance and tools to support the delivery of the IPC approach framework is being developed through a collaborative development process, supported by rapid cycle implementation and evaluation. This guidance will form the IPC Operating Model, which is being designed for wider replication and spread, and will be available in spring 2017.
Links