Accessing supplies of Personal Protective Equipment (PPE)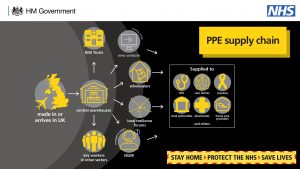 There is unprecedented, global demand for personal protective equipment as a result of this pandemic. The UK has released its pandemic influenza stockpiles, which included many types of PPE required for tackling COVID-19, and new logistics networks – including support from the army – have been established to manage supply and demand across the UK, and to make sure appropriate PPE reaches those who need it.
Information for NHS Trusts and Foundation Trusts
For acute, mental health, community, integrated care and ambulance trusts there is now a PPE dedicated supply channel delivering all core PPE products used for managing and treating patients with COVID-19 such as eye protection, aprons, gloves, gowns, hand sanitiser and masks.
Pallet deliveries are being pushed out on a daily basis by Clipper Logistics. For more information about this service, daily manifests of what is being delivered, and how a customer service team can support enquiries visit the PPE Dedicated Supply Channel.
This supply channel can also help Trusts and regional teams access information about how much PPE equipment has been delivered to each hospital, to help facilitate local mutual aid.
Information for primary care, hospices, social care and home care providers
There are a range of options available to primary care, hospices and home care providers to get of PPE equipment.
Additional supplies of PPE equipment continue to be made available to wholesalers that routinely supply to GPs, dentists, pharmacies, social care and hospices
Regional NHS leadership teams are working with individual trusts to support mutual aid and redistribution of supplies to meet greatest clinical need
Local Resilience Forums (LRFs) have received a push of PPE supplies to respond to local spikes in need, including those in social care and primary care, where there are current blockages in the supply chain. The PPE stock provided to LRFs is to support urgent need in vital services which are not linked to the NHS Supply Chain. This PPE is intended to support service providers which have exhausted their usual routes for PPE and there remains an urgent need for additional stock.
A new online ordering site is being developed and will enable primary care, community care and social care providers to register their PPE requirements more easily. The site will be rolled out so that these providers can request critical PPE from a central inventory. Further details will be released on how to register directly to providers as part of a phased approach. Orders will be managed in line with the published guidance from Public Health England and shipped directly via Royal Mail.
Accessing urgent supplies
Any organisation running critically short of PPE, and has exhausted other supply routes, can phone the National Supply Distribution Response (NSDR) on 0800 915 9964 for an urgent delivery.
Other information and resources