Publications and practical resources
We have curated a range of resources to support our managers, teams and leaders to have conversations about race and other protected characteristics. These key resources provide practical tools to help organisations create more compassionate, inclusive, and fair working environments for their staff and patients.
This report seeks to be a summary of some of the research evidence on fair recruitment and career progression. It is written for practitioners and highlights a small number of principles drawn from research that then underpin the suggestions made for improving each stage of recruitment and career progression.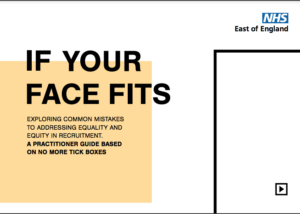 This practitioner guide draws attention to the types of practices that consistently get in the way of equality and diversity and has been developed to provide practical examples of how organisations can improve recruitment practices.
This document is written to assist ICS panels for Board appointments. It may also be useful for other senior post recruitment. It is written in accordance with the NHSE guidance which states
"Given our ambition to improve our NHS WRES indicators additional support can be provided to panels on Equality, Diversity and Inclusion. This can be through informal guidance to Chairs though to additional, expert panel members."
Many senior appointments in the NHS are made using Executive Search Firms (ESFs). The track record of such firms in delivering credible diverse candidates can be mixed.
NHS East of England has drawn on the already available publication No More Tick Boxes to produce a checklist for NHS organisations wishing to use these firms in order to deliver the best possible diverse long list and shortlist to and to assist diverse recruitment.