The five-year framework for GP contract reform introduced the commitment by NHS England and the British Medical Association (BMA) General Practitioners Committee (GPC) England for patients to be able to add information to their record.
From 2021, as stated in the 2021-22 contract letter and published in the October 2021 Regulations, practices will provide an online facility for their patients to inform them of their personal/contact details or other demographic information and to inform them of a change to any such information. This is subject to existing safeguards for vulnerable groups, third-party confidentiality and system functionality.
This is also a core and mandated capability under the terms of the GP IT Operating Model. The guidance here will help GP practices meet this requirement. It provides information of how GP practices can offer this facility to patients.
It explains how GP practices can help patients use online services to update or change their personal details, such as with a new address or demographics (for example name, email address, mobile and landline phone numbers).
Benefits of patients keeping their demographics up-to-date
Out-of-date contact details can be unsafe and increase the risk of personal or confidential information being shared incorrectly.
Many patients do not know they can update their details online. Several options are available to support GP practices in promoting patients' use of a technology-based alternative to walking-in or phoning the practice.
Together with the NHS number, patient demographics are key reference points for making links as we improve interoperability and shared care records.
Benefits for GP practices
Benefits for GP practices include:
fewer transcription errors
fewer unnecessary delays
ensures that the practice has up-to-date contact details
fewer in-person and phone enquiries
improved workflow, easier to plan
reduced administrative burden
Benefits for patients
Benefits for patients include:
correspondence gets to them faster and more securely
not having to take time off to visit or phone the surgery
their information can be updated at any time
easy way to update demographics for the whole family
Online options and processes
Practices can use a range of options that meet the requirements according to what works best for them and their patients. There are five suggested options, of which you can use any you prefer or, indeed, any other route that meets the new legal requirement.
Option one: GP online services
Inform patients that they can change their address or other demographics if they are registered for the online services with your practice.
Switch on the GP online function to receive change of addresses or demographics through the system's workflow.
Option two: GP practice web form
Add a web form to your practice website that patients can use to update their information.
Encourage patients to update information for all the family members they live with who are registered at the practice on one form.
Some online consultation solutions enable you to tailor forms, which provides further security.
Option three: online consultations
Encourage patients to use the existing online consultation system's administrative or free-text functions for updating change of address or demographics.
Option four: via NHS App
Patients can update their email address, phone number and other contact or demographic details using the NHS App, with more functionality being added over time.
Option five: via your existing patient-facing email
Use existing secure email services to accept email notification of changes from patients whose email addresses have been validated.
Note: There is no mandatory requirement for patients to provide proof of address or ID at the registration stage, however it is recommended as good practice to request these.
Summary of the five options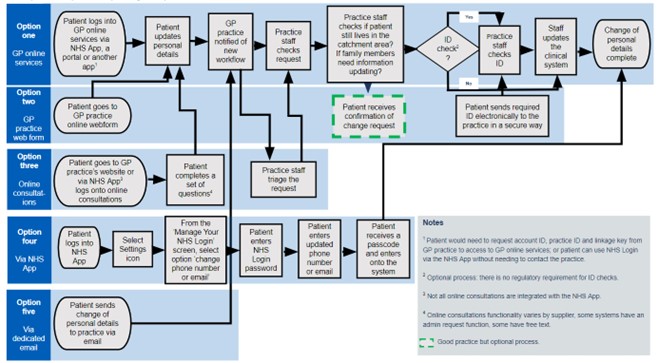 Note: If patients live outside the practice catchment area, practices should ensure that these patients are re-registered as 'out of area registration'. Practices are under no obligation to accept patients from out of their area and if they chose to accept them are not legally bound to offer home visits to these patients.
Legal requirements
UK General Data Protection Regulation (GDPR) 2021
The UK GDPR requires personal data to be:
adequate, relevant and limited to what is necessary in relation to the purposes for which it is processed
accurate and, where necessary, kept up-to-date
It is good practice for GP practices to check with patients if they are happy for their mobile number to be used for communications, like text appointment reminders or notices from the practice (such as the availability of flu jab appointments).
A patient should be asked their communication preferences when they register. You should also ensure that there is transparency about the communication methods used by the practice, for example, on your website.
Alternative arrangements should be made for patients who do not want to receive texts.
Change of name through marriage or deed poll
When patients change their name following marriage or by deed poll, the Department of Health and Social Care requires that they give their GP practice a copy of the appropriate document as proof.
Case study: King's College London NHS Health Centre
King's College London NHS Health Centre is a university practice with 18,000 registered students and a strong digital online presence. The centre encourages patients to use TPP SystmOnline to update their information and send medical queries or concerns. 80% of patients are now using SystmOnline.
The centre promotes the use of email and SystmOnline to all patients when they register, and the high uptake of these digital processes is helping the centre manage its workload more efficiently.
Methods of notifications
Email
Some patients inform the practice of a change of address or demographics by email.
Patients provide their student ID as proof of identity.
Practice staff search for the patient and update relevant details on the clinical system.
Each update takes 5 minutes.
679 change of address requests were completed in this way during 2020.
SystmOnline
No ID check required.
Requests arrive in the 'Task Box' and with one click practice staff can action them.
Each update takes 2 minutes.
NHS Spine is immediately updated.
462 change of address requests were completed in this way during 2020.
Useful tips
Staff should promote to patients the option of using online access to tell the practice about changes of personal details, by whichever means the practice uses, for example SystmOnline, the NHS App, the practice website etc.

Switch on the function in your clinical system to receive notifications of changes made by patients

Ensure patients are made aware that their mobile number could be used by the practice to send reminders and other communications if they sign up for this service.
Consider the need to check the identity of someone requesting changes to an address or demographics, according to the method of notice used.
Require anyone telling you about a change of name through marriage or by deed poll to provide documentary evidence that can be scanned into the record.
Be mindful of existing safeguards around vulnerable groups, third-party confidentiality and coercion.
Related GPG content
Information governance and data protection – to follow
GP contract – to follow
Other helpful resources