Volunteers have never been so critical to the future of our NHS. They are making a huge contribution to the health and wellbeing of the nation, giving their time, skills and expertise freely to support people most in need.
Volunteers have been essential to ensuring that vulnerable people get the help they need during the COVID-19 pandemic. Many have volunteered for the first time, coming together to look out for their neighbours and support vulnerable people in our communities.
There are over 300 types of volunteering roles across the NHS, allowing people of all ages and backgrounds to find challenging and rewarding opportunities which reflect their availability, ambitions and passions. Whether you are one of the 600,000 who stepped up to join NHS Volunteer Responders, one of the many thousands who support people leaving hospital through home from hospital schemes, help regularly at local hospitals or having your say in how the NHS is run through joining youth forums, your contribution to the NHS is invaluable, now more than ever.
Thanks to the kindness of the British public at our greatest time of need, thousands of people across the country have been supported by our volunteers – we know that the smallest task has made a world of difference during these uncertain times.

Chief Nursing Officer for England, Ruth May
Share your stories and personal commitments
We want you to share your volunteering stories during the COVID-19 pandemic.
How has an NHS volunteer made a difference to you?
Why are you proud to be an NHS volunteer?
Have you worked with an inspiring volunteer?
Or have the stories of volunteers inspired you to make a commitment to get involved? Share your stories on social media using the hashtag #NHSBirthday.
Get involved
There are many ways to get involved in volunteering in the NHS – look out for opportunities in your local NHS organisations. Alternatively, to find other volunteering opportunities try the following:
Read inspiring stories and experiences of volunteering
Young volunteers at West Hertfordshire NHS Hospital Trust
St John Ambulance at Nightingale Hospital, London
---
Age UK Milton Keynes
Since April, local Age UKs have supported 3,887 older people through the NHS England funded Voluntary Sector Support COVID-19 Response Programme. In Milton Keynes, Age UK has leased a wheelchair-accessible vehicle with an internal protective screen so that their Hospital Aftercare Service can continue to take people home from Milton Keynes University Hospital NHS Foundation Trust safely and comfortably during the coronavirus pandemic.
Young volunteers at West Hertfordshire NHS Hospital Trust
11 young volunteers are supporting West Hertfordshire NHS Hospital Trust in response to COVID-19. The volunteers have received risk assessments, PPE and socially distanced infection control training to prepare them for the role of 'Response Volunteers'. The young people have carried out requests such as collecting patients' belongings from family, keeping patients' company and befriending those with no visitors, taking food and refreshments to staff and are helping to process donations from the public, schools and external companies.
Almost half of the Trust's Response Volunteers are under the age of 18 and combining school work with volunteering and using the opportunity to consider working for the NHS.
"I always seek experiences that can educate and humble me, so volunteering during this time felt like an opportunity to do my part in contributing to a community that has always supported me and my loved ones. COVID-19 tore so many families apart, that I wanted to help create a sense of unity – to combat that in the best way I could.
Some of my most memorable moments were made whilst working in patient affairs, as I got the chance to help those grieving and connect with their stories. So many people have lost loved ones to the same virus, yet the impact and coping mechanisms of each person was so different, it really taught me about the nature of grief and how no one is truly alone, as so many have a shared experience, whether they've lost someone to COVID-19 or are struggling with isolation.
Volunteering is challenging both emotionally and physically, but the experience has been so rewarding. I'm beyond grateful for being part of such an inspiring project, and the appreciation expressed by the NHS staff and the public fuels me constantly. Overall, compassion and resilience will get us through this pandemic.
Monica L (aged 17)
St John Ambulance at Nightingale Hospital, London
Since the outbreak of coronavirus, volunteers from St John Ambulance (SJA) have been working tirelessly, shoulder to shoulder with the NHS and armed forces at the new Nightingale hospital in London after a call was put out for clinically trained volunteers. SJA people are providing first aid services, support to the family liaison teams, clinical support workers and patient transport service discharge for patients who are ready to complete the final part of their recovery at a local acute hospital.
"The dedication of St John Ambulance volunteers inspires me every day, but our people's response to this national emergency is extraordinary – my colleagues have been overwhelmed by their willingness to step forward and support the NHS."
Richard Lee, Chief Operating Officer for St John Ambulance
The Power of Youth in the NHS
In NHS trusts across England, youth volunteering projects in hospitals supported by the Pears #iwill Fund have been reflecting on the #PowerOfYouth.
The Pears #iwill Fund was created by the Pears Foundation, the National Lottery Community Fund and the Department for Digital, Culture, Media and Sport
NHS Volunteer Responders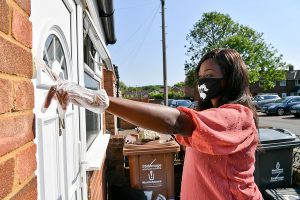 Developed by NHS England in partnership with the Royal Voluntary Service and facilitated by the Good Sam app, hundreds of thousands of NHS Volunteer Responders have been working hard to support those in most need during the coronavirus crisis. When the call went out for volunteers, Rose Odudu from Stevenage felt that she was in a fortunate position to help support the NHS through this difficult period.
"I am someone who really enjoys giving back, but I never anticipated just how rewarding my time as an NHS Volunteer Responder would be. I feel that I have been fortunate throughout this pandemic to have a strong network of family and friends and to be in good health, but I recognise that this is not the case for everyone. I have helped people by picking up prescriptions from the pharmacy and chatting with them. It's amazing to know that I am able to help in some way and speak with them, even if it's just for five minutes.
"Volunteering for me has been a great way to give back in a meaningful way and be able to see an instant real difference in people's lives. Not only this, but when you give back to the world in such a way, it increases your own happiness and self-appreciation, which is important, especially in times like these."
NHS Cadets
The NHS and St John Ambulance are joining forces to recruit and train thousands of NHS Cadets. The cadets will help to improve care for patients while offering a route into health service employment for up to 10,000 young people.
The £6 million programme funded equally by NHS England and the charity will provide 14 to 18-year-olds with first aid training, courses to develop their leadership skills, and volunteering opportunities in the NHS – including vital hands-on work experience in hospitals.
The NHS Cadet programme is being piloted across Colchester, Hull and London and will be rolled out across England with Liverpool, Bradford, Hertfordshire and Wirral in the coming months, with the aim of enrolling 10,000 young people by 2023.
The programme is seeking young people from marginalised backgrounds, including teenagers from BAME communities, young people not in employment, education or training – or at risk of becoming so – and others who might not have previously considered a career in the NHS.