Influenza is an acute viral infection characterised by a fever, chills, headache, muscle and joint pain, and fatigue.
Flu is easily transmitted and presents quickly. The virus often makes people feel exhausted and too unwell to carry on as normal.
The NHS flu immunisation programme offers eligible people protection against the effects of flu. Our campaign aims to encourage as many people as possible to have the flu jab and protect themselves against the unpredictable virus.
Below are the stories from some people who live in the South East telling us why they get the flu vaccination.
Sally Oxlade
Let me introduce myself – my name is Sally Oxlade and I am a support volunteer for Diabetes UK, where my passion is raising awareness and education, helping those living with Diabetes.
Getting my flu vaccination
When I was 55, I was diagnosed with Type 1 diabetes and every year I get my flu vaccination from my local GP in Sutton Scotney, Winchester as soon as it is available.
Booking my appointment with the GP is always extremely easy and they are always very efficient, advertising the flu jab, sending email reminders and holding flu clinics, this vaccination is very accessible.
My story
It's important for me to get the vaccination because I watched my mother, who was a Type 2 diabetic, die very quickly of pneumonia and I know the flu vaccine not only protects you from the flu, but also protects you against flu-related pneumonia.
No one would want to have flu and if you – like me – live with diabetes getting flu is dangerous, not only are we more likely to get flu, we will also take so much longer to get better.
My advice
I think the main reason people with diabetes don't get their vaccination is lack of awareness, and they don't know that if you live with diabetes you are entitled to a free flu vaccination.
On Diabetes UK web site, we explain about the benefits of getting your flu vaccine, but I've never seen specific adverts encouraging people with diabetes to get their flu vaccination – which is why I think it's so important to spread the word and share my experiences.
I would advise everyone who is offered a flu vaccination – young or old – too take it and make it an annual event!
It's a no brainer – I certainly don't see the point of taking the risk.
Kirsty Biss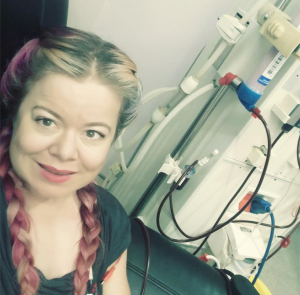 My story
My name is Kirsty Biss, I'm a 27-year-old singer from Brighton and at 10 months old I was diagnosed with a condition called cystinosis.
You're probably not familiar with cystinosis, it's a very rare, inherited condition which causes crystals to form in my organs and was ultimately the cause of my kidney's failing.
I was on dialysis for three years, which meant my immune system was weak and I has a greater chance of getting flu and developing flu-related complications.
In February this year I was lucky enough to have a kidney transplant, although I don't require dialysis anymore I am still more likely than most to catch flu and develop complications like multi-organ failure.
Getting my flu vaccination
My Local GP in Brighton sent me a letter with dates I could come in for an appointment at the flu clinic. Unfortunately, I was busy at the times they suggested, but they were very accommodating and booked me an alternative appointment.
I was in and out in 5 minutes and the actual vaccination only took a second, once it's done I wondered why I was so worried – it's honestly not as scary as you think!
My advice
I think a lot of people who live with kidney failure or kidney disease want to distance themselves from the medical world, especially when you're living your life and feeling well, because we spend so much time in clinical environments.
But please, get yourself vaccinated. It's going to be less time and stress having the flu vaccine than suffering the consequences of having the flu. It's not worth the hassle, pain and risk of potentially damaging your organs and having to have time off work and other commitments.
People don't get their vaccination for a combination of reasons, but I honestly think people forget- so please, remind eligible friends, family and colleagues to protect themselves and get vaccinated against flu.
Nancie Norriss
Throughout her career as a geriatric nurse Nancie Norriss (pictured with her daughter Julia) always protected herself and her vulnerable patients' by having the flu vaccine.
Nancie now has advanced fronto-temporal dementia, she moved into Parklands Manor, Chertsey following the death of her husband who was her primary carer.
Her dementia has become so advanced she is unable to communicate her wishes. But as her attorneys for health and welfare, Julia and her sister chose for her to be vaccinated against the flu.
For older people the effects of flu can be much more serious, and in some cases even fatal. Flu is a highly infectious disease and can spread very quickly, especially among vulnerable, older people.
Nancie's daughter Julia said: "Given our Mum's age and susceptibility to picking up the flu virus, coupled with her dementia and her proximity to other elderly residents and visitors, we decided it was necessary to give her the flu vaccine to protect her and others. The flu vaccination was quick, the GP went to the care home to give the jab."
Everyone living or working in long stay residential care homes or other long stay care facilities are eligible for a free NHS flu vaccine. Some vulnerable residents may not respond well to the vaccine, so we also urge care home staff to get vaccinated. Contact your local pharmacy or GP today.