We are taking the opportunity to say 'thank you'  to NHS staff who have made great sacrifices to respond to the Covid-19 pandemic.
During these times of uncertainty, extraordinary people are making extraordinary things happen. Across the South East nurses, doctors, carers, GPs and other healthcare and key workers are isolating from family and friends, re-training, re-deploying, volunteering and even coming out of retirement.
Meet a few of the wonderful people who have joined the effort to help tackle this pandemic.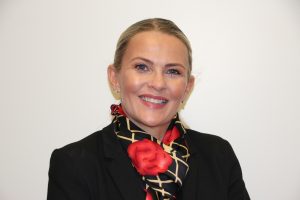 Karen Roberts, Bereavement Services Manager
Karen continues to provide a wealth of support to families and loved ones, as well as individuals and teams across the Trust during this challenging time. She is well respected across the organization and been nominated by a number of colleagues. Her role has been very varied over the last few months and every day has created its own challenges.
To Karen bereavement isn't just about the legal logistics, it's about offering support during people's most difficult times and as she will tell anyone, it is a role she considers an honor to do.

Dr Tom Brown, Consultant Respiratory Physician and PHT Lead for the RECOVERY trial
Tom Brown led the delivery of the RECOVERY trial in Portsmouth alongside his role as a Consultant Respiratory Physician. At a time of significant clinical pressure, research and clinical teams united to overcome historical divisions making research accessible for all patients in the Trust. The COVID Trial Team recruited 117 patients allowing them the opportunity to access otherwise unavailable treatments including Dexamethasone, which has since been proven to reduce the risk of death significantly in COVID-19 patients and is now authorized for use by the NHS.
Portsmouth Hospitals NHS Trust's participation in the trial received widespread positive media coverage, including this article about one of our nurses, Kate Bugtong, who was treated at Queen Alexandra Hospital for COVID-19. Kate took part in the RECOVERY Trial and was treated with Dexamethasone. She was safely discharged following treatment and returned to work at QA on her birthday in June.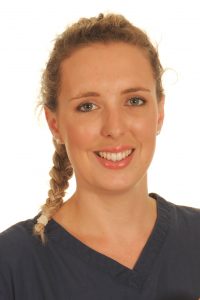 Susie Calvert, Physiotherapy Team Lead in Critical Care
Susie has gone from managing a team of five to around 34 physiotherapists throughout the pandemic, ensuring that they were able to provide complex respiratory treatments as well as the extensive rehabilitation input that these patients required following their critical illness. The work Susie and her team have been doing is incredibly demanding physically and remains a key part of the Critical Care team.
Susie took the responsibility for delivering the training to upskill those physiotherapists who were redeployed as many had never worked in intensive care and the complexity of the patients was greater than what most clinicians had experienced.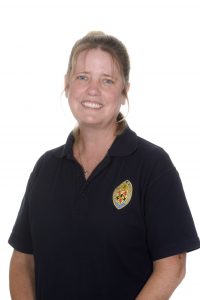 Ruth De Vos, Senior Respiratory Physiotherapist
Ruth has worked in the respiratory department for over 20 years, during which time she has been involved in several innovative projects for patients with chronic lung disease. Her area of special interest is working with patients with breathing pattern disorders, a significant component of breathlessness, and is currently also studying for her PhD on the use of inhalers.
During the pandemic, Ruth worked alongside the Respiratory High Care Unit team where she helped provide an exceptional standard of care. She championed the use of the prone position to help patients with COVID-19 oxygenate their lungs and breathe better, and was also heavily involved in their rehabilitation.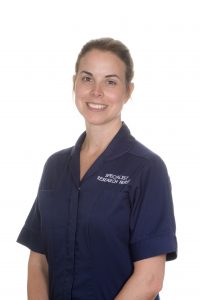 Maria Moon, Specialist Research Nurse
Maria was redeployed on to COVID-19 positive wards from surgical research. She was showing symptoms and so self-isolated away from her family. In order to continue working on the RECOVERY trial with COVID-19 positive patients, she continued to live separately from her husband and two young children for over two months so that she could keep working at Queen Alexandra Hospital.
The RECOVERY trial looked at a number of possible treatments for COVID-19 including Dexamethasone, which has since been authorized for use by the NHS.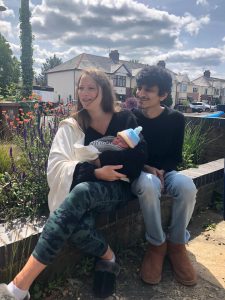 Dr Michael Gomez, Senior Doctor in Gastroenterology
At the start of the pandemic Micheal was redeployed from Gastroenterology onto the Covid rota to cover the acute medical unit. His wife, Anna, was heavily pregnant, and so they made the hard decision to minimise the risk to Anna and the baby, by her moving out for nine weeks.
They were reunited when Anna went into labor at the John Radcliffe hospital in Oxford, giving birth to a baby boy, Arlo, weighing in at a very cuddly 8lb 5oz.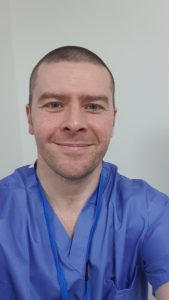 John Lodge, Head of Quality Improvement 
John works in quality improvement and has been redeployed to support frontline services during the Covid-19 pandemic. As part of his efforts, John saw a way he could help improve the redeployment process to quickly match people's skills and time to where it was needed most – and went above and beyond to reconfigure the technology behind a skills exchange time bank, called Hexitime.
John is now back working in his usual team, where he continues to support Trusts to develop their organisational approaches to improvement.