Katie Watkins, Integrated Digital Midwife, Wexham Park Hospital, Frimley Health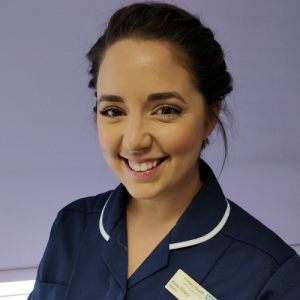 Midwifery was not on Katie's radar at all when she left college, but she knew she wanted to work with people, not against them and wanted to feel like the work she was doing made a difference rather than just for profit. I had always been fascinated by pregnancy and childbirth so thought I would give it a go.
Katie said "I began my training in 2013 and qualified in 2016 as a midwife. After a year of consolidating my practice I was beginning to think about how I might progress in my career beyond that. I still loved caring for women but felt that I could improve the service women received in other ways. I started working 50% of the time as an IT midwife in February last year, developing digital systems and ensuring data quality and found a little sector of the midwifery world that I felt I could make a real difference. I saw an opportunity to become the lead digital midwife at Wexham at the end of 2019, and started my new role".
The care women receive can be hugely improved by digital systems. If we can ensure seamless, smooth running of technology, then midwives spend less time trying to work the system and more time with the women. Technology can allow midwives to work with different departments from all over the trust; management, data analysts, clinical coders; and ensure the sharing of vital information to provide connected care for patients.
Katie said; "Everyone is always surprised to hear there is such a thing as a digital midwife and are often confused why this would be a path that would be interesting to a midwife. Beyond the clinical care of women, there is such a variety of career paths you can take within midwifery that people are very rarely aware of. There is always opportunity to be developed professionally and the options are honestly endless. Being a midwife is a special privilege. There is nothing quite like knowing that you've been part of the journey to a woman and her family bringing life into the world. Even being part of the tragic side of midwifery is incredibly rewarding, as the impact you can have in these situations will often be remembered by the family forever"