Compassion in Practice – our culture of compassionate care
Compassion in Practice is the new three year vision and strategy for nursing, midwifery and care staff drawn up Jane Cummings, the Chief Nursing Officer for England (CNO) at the NHS Commissioning Board, and Viv Bennett, Director of Nursing at the Department of Health.
It was launched at the CNO annual conference in Manchester on December 4th 2012 following an eight week consultation with over 9,000 nurses, midwives, care staff and patients.
Compassion in practice – nursing, midwifery and care staff – our vision and strategy
Register for 6Cs Live! webinars running from 30 October – 01 November, 2013
Introducing the new vision for nurses, midwives and care-staff
This short film introduces Compassion in Practice, the new vision for nurses, midwives and care staff and provides an overview of the 6Cs. It was first show during the Chief Nursing Officer for England's Conference on 4 December 2012.
Compassion in Practice implementation plans
Over the last three months nurses, midwives and care staff, as well as stakeholders at national and organisational level, have developed implementation plans to support the delivery of the values and behaviours of the 6Cs.
The implementation plans are part of 6Cs Live!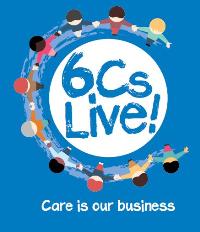 Look out for the logo, get involved and make a difference to the patients and people you care for. Each and every one of us can make a difference. 'Care is our Business.'
You can find more information in the implementation plans area.
Find out the history of 6Cs Live!
Download 6Cs artwork for printing professionally or in-house
The 6Cs artwork is designed to have a consistent look across the NHS in England. It is designed to deliver the 6Cs key messages and the artwork is supplied in both pdf and jpeg format.
The NHS Commissioning Board Authorises UK healthcare organisations to use this materials for educational and non-commercial use.
Content and designs should not be edited, amended or altered.
Putting the vision and strategy in to practice
These charts demonstrate how the 6Cs will contribute to high quality, compassionate and excellent health and wellbeing outcomes for people in a range of settings.
Caremakers
Lord Seb Coe talks about how inspired and delighted he is that his vision for the Games Makers at the Olympics is being developed and continued in the NHS by the 6Cs and Caremakers.