How will we measure success?
Having a single definition for quality is important, but unless we measure how we are doing then we will never know whether we are achieving our vision and continuously improving services for patients.
That is why, at a national level, the NHS Outcomes Framework has been developed. This provides us with a way of measuring the actual outcomes we are achieving for the population of England.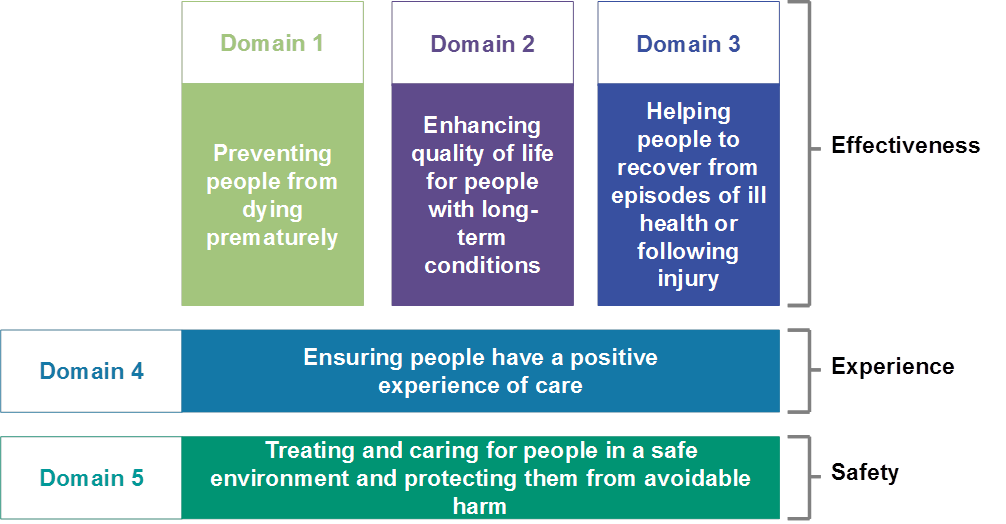 The NHS Outcomes Framework measures whether for the people it serves, the NHS is:
preventing people from dying prematurely by promoting good health and discouraging decisions and behaviours that put their health at risk, but where people do develop a condition, diagnosing this early and managing it in the community so that it does not deteriorate.
Supporting people to be as independent and healthy as possible if they live with a long-term condition such as heart disease,  asthma or mental health problems, preventing complications and the need to go into hospital.
If people do experience an episode of ill health or suffer an injury, treating them effectively and supporting them to recover and restore their maximum independence as quickly as possible.
Throughout all of these interactions, the NHS is treating everyone with dignity and respect and ensuring their experience of health care is as positive as possible…
…whilst at the same time treating everyone safely and minimising their risk of harm.

NHS England clinical directors and CCG commissioners who are members of the NHS Commissioning Assembly Quality Working Group are leading work, and developing support tools, for local and national commissioners to ensure the NHS Outcomes Framework is embedded across the whole health system in England