Posts by Angela Lane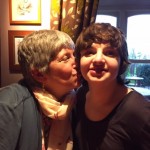 Angela Lane trained as a contemporary dancer and choreographer.
Her career in dance took her to Eastbourne where her second daughter Cherry was born and eventually diagnosed with Rett Syndrome
While her daughter was at school, Angela joined the SEN Forum for East Sussex Education Authority and through her Transition to Adult Services she worked with researchers and consultants to help inform policy in this area, eventually becoming one of the parent carer representatives on ESCC Learning Disabilities Partnership Board (LDPB).
Angela went on to lead projects in Intensive Interaction (Interact Now) with Sussex Partnership NHS Trust, and Person Centered Approaches projects for the LDPB. As creative director of these projects, Angela worked with a team whose aim was to discover the conditions and contexts in which person centered approaches, Total Communication and other contemporary methodologies can be successfully used to complement the inherent ability of individuals and their supporters to have the life they want.
Following completion of a creative writing certificate at Sussex University, Angela went on to become an associate tutor in the service user and carer network at the university, teaching and supporting the development of the social work undergraduate and master's degrees.
During this time she worked to establish her daughter's Independent Living Trust and has experience of both the social care direct payments scheme and the new NHS Personal Health Budgets scheme.
With the progression of her father's Parkinson's disease and dementia, Angela is interested in developing her skills to support families and people encountering dementia in their lives.
Angela continues to have a deep interest in dance and writing and considers everything in her life to be connected. Now a grandmother to two beautiful grandsons, she feels she is enjoying the rewards of a long life.