Posts by Chris Pointon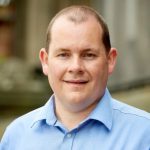 Chris Pointon is the widower of the inspiring Dr Kate Granger MBE and Co-founder of the #hellomynameis campaign of which he remains the Global Campaign Ambassador
'Play the cards in life you've been dealt' were words that Kate and I lived by and we certainly lived life to the full every day, even before her terminal cancer diagnosis.
Our lives were turned upside down around 6 and a half years ago when Kate was diagnosed with terminal cancer whilst we were holidaying in California.
From that point we crammed a huge amount into Kate's time on this planet. Along the way we raised over £340,000 for good causes, travelled the world, met many celebrities and royalty and started a global campaign that improves patient care through the basic message of introductions entitled #hellomynameis. Kate's legacy is huge and her name will live on forever through her legacy and various awards named in her honour.