Posts by Clare Anderson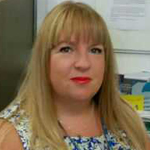 Clare Anderson is a Clinical Nurse Specialist in the CAMHS Crisis and Liaison Team in Durham & Darlington in the North East of England.
She is a paediatric nurse with Tees Esk & Wear Valleys NHS Trust and helped develop the Crisis & Liaison service from its conception in May 2014. She has been involved in developing national guidelines for emergency care of young people with mental health problems. She has also visited other areas of the country to share the Durham model and help shape newly developing CAMHS crisis services. She has worked in various clinical settings including acute paediatrics and Accident & Emergency before spending the majority of her career in CAMHS.