Posts by Darren Dooler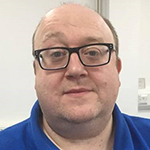 Daz (Darren) Dooler has worked for Live Well Wakefield for 18 months as a 'Self Help Support Worker'.
Live Well Wakefield has been commissioned by Wakefield Metropolitan District Council, through Nova Wakefield and South West Yorkshire NHS Foundation Trust (SWYFT). They work with anyone in the Wakefield and 5 Towns area struggling with their wellbeing.
Daz is a time-served mechanical and electrical engineer and has worked at a senior level of management in the UK and abroad. Due to long-term health conditions, including Generalised Anxiety Disorder, he then struggled with employment for several years.
Having become involved in the Expert Patients Programme (formerly part of SWYFT) and completing the General Self-Management Community Course, he moved forward to become a volunteer for the service and trained to become a tutor. He then went on to become a governor at SWYFT and started his own community group The S.M.a.S.H Society. Here he ensures social prescribing continues to improve lives in his community with health conditions, particularly those struggling with their mental health.