Posts by Dr Adrian Whittington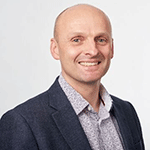 Adrian is the National Clinical Lead for the Psychological Professions at NHS England. In this role, Adrian provides professional leadership and advice across the national NHS teams aimed at maximising the impact of the psychological professions for the public and delivering the ambitions of the NHS Long Term Plan.
He is a Consultant Clinical Psychologist. He is passionate about making the NHS more psychological, including increasing access to evidence-based psychological interventions and therapies.
Adrian also co-chairs the Psychological Professions Network England Board. Adrian is a clinical specialist in psychological therapy for post-traumatic stress Disorder.
He has written and co-edited books on anxiety, cognitive behavioural therapy, and clinical psychology.