Posts by Dr Giles Berrisford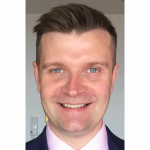 Dr Giles Berrisford is Associate National Clinical Director for Perinatal Mental Health for NHS England.
Dr Giles Berrisford is the Clinical Lead at the Birmingham Perinatal Mental Health Service at BSMHFT – leading one of the largest inpatient Mother and Baby Units in the country. He is the Chair of the national charity Action on Postpartum Psychosis (APP) – working closely with women and families directly affected by postpartum psychosis – the most severe form of perinatal mental illness. He is the Vice-Chair Elect of the Perinatal Psychiatry Faculty within the Royal College of Psychiatrists and is the West Midlands' Senate representative for the Perinatal Psychiatry Clinical Reference Group. He is committed to bringing about improved access to maternal mental health services and reducing the unwarranted variation in care currently seen across the country.