Posts by Dr Karen Chumbley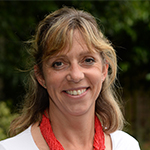 Dr Karen Chumbley has been a GP in North East Essex for 17 years and the Clinical Director at St Helena Hospice for the last 4 years.
In 2018 she was appointed the Senior Responsible Officer for End of Life Care in North East Essex and is chair of the North East Essex Alliance End of Life Board.
Karen led Castle Gardens Practice in Colchester to be one of the first cohort of practices accredited with the Gold Standard Framework Going for Gold award. She was the Clinical Lead for End of Life care for North East Essex from 2013-2015 and as such led the CCG Primary Care End of Life programme promoting the identification of people approaching the end of life, advance care planning, care coordination and symptom control.
In 2019 Karen was awarded FRCGP for her work in end of life care within Primary Care.