Posts by Dr Priya Kumar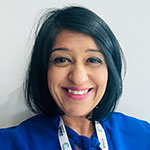 Dr. Priya Kumar has been a GP Partner at Kumar Medical Centre since 2013 and holds a variety of other roles. This includes being the Health Inequalities lead for Slough, Transformational Clinical Lead for Connected Care in the Frimley ICB. She has also recently been named the 'Digital Innovator of the Year' 2023 at the Digital HSJ awards.
Priya has been involved in transforming care across the system by working with various stakeholders including the residents, primary care, secondary care, social care, the voluntary sector, and public health. Her main passion lies in developing innovative clinical pathways by using a population health approach and applying digital solutions to improve patient outcomes whilst incorporating the residents' views and underlying circumstances.