Posts by Dr Shahed Ahmad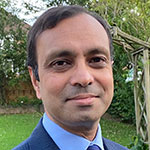 Shahed Ahmad, National Clinical Director for Cardiovascular Disease Prevention at NHS England.
Dr Shahed Ahmad is an NHS England Medical Director in the South East Region where he is the Responsible Officer for over 3000 GPs. Shahed was educated at Corpus Christi College, Cambridge and University College and Middlesex School of Medicine. Shahed did his MSc in Public Health at the London School of Hygiene and Tropical Medicine and his leadership training at the London Business School. Before working for NHS England and NHS Improvement, Shahed was a Director of Public Health and led on cardiovascular risk reduction in a number of boroughs. Since joining NHS England, Shahed developed the NHS@2030 programme for GPs in South Central (a number of whom are now clinical directors of primary care networks) and developed the Hampshire Thames Valley Leadership Forum.