Posts by Helen Williams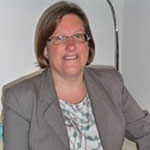 National Specialty Adviser for Cardiovascular Disease Prevention at NHS England.
Helen Williams has worked as a CVD specialist pharmacist for the past 25 years in hospital, community and primary care settings. She has spearheaded a wide range of activities across South London and beyond to improve the care of patients with or at risk of cardiovascular disease (CVD). She leads on the development and implementation of consensus evidence-based guidance for use across South London's 12 CCGs and 7 acute trusts, covering a population of 3.6million and supporting local practitioners through education and training, guideline implementation, clinical audit, service development and provision of virtual or face to face clinics. For the past three years she has provided clinical advice to inform the delivery of local and national AF AHSN programmes to optimise the detection and management of AF with the aim of reducing AF-related stroke. She developed the pharmacist-led virtual clinic model to optimise uptake of anticoagulation in AF in Lambeth and Southwark CCGs, which is now being spreads nationally through the NHSE AF demonstrator programme. Helen has supported the commissioning and delivery of CVD new models of care to address the CVD ABCs, – AF, blood pressure and cholesterol.