Posts by Dr Yasara Naheed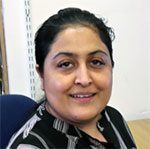 Dr Yasara Naheed is a GP partner at Thursby Surgery, Burnley, and Clinical Director for Burnley East Primary Care Network. She has practiced at Thursby Surgery since 2004 following her GP training.
Yas has lived in Nelson for over 40 years. Living and working in the area means she has a strong connection and understanding of the needs and challenges facing her patients. She recognises the value and importance of community and community assets and networks and this has influenced both her practice and her development of Population Health Management which she has led for the Burnley East Primary Care Network in partnership with her GP colleagues and other partners.
Prior to this Yas co-led a groundbreaking partnership between the local GP practices, primary schools, police and local youth theatre to help build resilience and confidence for young people. Her particular interests are mental health, women's health and diabetes. She has also been involved in training of medical students and foundation doctors at the practice. In her spare time she enjoys playing badminton and watching football.