Posts by Emma Wadey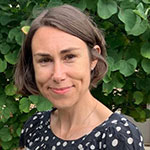 Emma Wadey RN MH, Head of Mental Health Nursing, NHS England and NHS Improvement.
Emma is a mental health nurse with over 20 years' experience across a wide range of health, emergency care and criminal justice settings. Maintaining clinical practice throughout her career has always been a priority and Emma continues to work as a consultant nurse in a local psychiatric liaison service. With lived experience of the impact of suicide she has focused her clinical work on the treatment of complex trauma, self-harm and suicidality.
An early adopter of recovery-based approaches to suicidal behaviours, Emma co-produced teaching packages on how to support and treat those with suicidality and helped develop the first ever suicide prevention app, StayAlive. More recently she contributed to the development of the competency framework for self-harm and suicide as part of the expert advisory group, is a national clinical adviser for the Mental Health Service Improvement Programme and clinical lead for the National Nurse Retention Programme.
In the throes of a mid-life crisis Emma took up marathon running and is pursing completion of all six of the Abbots World Major Marathon series. With four completed already she is taking 2020 as a year off to build some speed!