Posts by Graham Woodham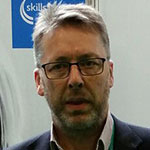 Graham Woodham is Programme Head for Regulated Professional Workforce at Skills for Care. He is personally involved in work involving the nursing, social work and occupational therapy workforce and leads a team which provides support, information, guidance and resources for employers of these professional groups. The team is currently working a range of projects supporting nursing in the care sector including a nurse leader's programme, return to practice and a statement of role, knowledge and skills. Graham's work at a national level involves advising, influencing and supporting the implementation of a range of strategic policy initiatives including the development of the Nursing Associate role working closely with the DHSC and HEE.
In 2016 Graham worked in partnership with NCF (National Care Forum) in producing a discussion and good practice paper: Stimulating debate on the distinctive contribution of nurses to adult social care.
Originally trained as a social worker Graham has been involved in a number of aspects of the recent national social work reform process, including the development professional standards and the Assessed and Supported Year in Employment (ASYE) for newly qualified social workers. He was formerly a social worker and team manager in Community Mental Health Teams in Essex, and was also mental health and social care training manager with the same authority. His practice experience included 10 years as an Approved Social Worker (Mental Health Act), and several years working in the voluntary sector at the beginning of his career.
Graham also has experience in practice education and mentoring and action learning facilitation. His management experience includes planning and implementing organizational change. Since joining Skills for Care Graham held roles as Regional Development Manager in the South East and Learning Resource Network Manager in the Eastern region before moving to his current post.