Posts by Jacqueline Young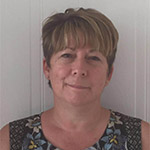 Jacqueline Young qualified as a registered nurse in London in 1988 aged 21.
She enjoyed roles on a surgical ward and on a spinal ward before becoming a District Nurse
At the end of 1996 she took on the challenge of a new role as a community Parkinson's Specialist Nurse which was a fairly new concept at the time. She thoroughly enjoyed this role and over the year developed the post into a small team of nurses caring for patients locally with Parkinson's
She stayed in this role for 18 years before moving 2 years ago to her current role as a Parkinson's Specialist Nurse in a secondary care setting in Cambridge.