Posts by Jeni Caguioa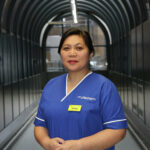 Jeni Caguioa qualified in 1994 as a nurse in the Philippines, and worked in a government hospital for 5 years. She was among the first Filipino nurses who came to work in the UK in 1999.
She started in Haematology at Birmingham Heartlands Hospital (now Heart of England) and have worked in the NHS for the last 21 years.
Jeni pursued her passion on health care and leader ship as an MSc in 2016 . As BAME Network Engagement Lead, she believes in equality and the strength of diversity so that teams can deliver the best care for our patients.
In 2018, she initiated Project KINs (King's International Nurses) How are we doing? which focuses on supporting the care and well-being of newly arrived overseas nurses. This led her to a secondment post with NHS England and NHS Improvement as the first Filipino Chief Nursing Officer's BAME Nurse Advisor for COVID19 in 2020. Her workstream relates to work on addressing the disproportionate impact that the pandemic has had on our ethnic minority workforce and improving their pastoral care and support.
Currently, her substantive post at NHS England & Improvement as Nurse Advisor supports programmes of work related to the outcomes and experiences of internationally recruited and ethnic minority nursing and midwifery staff and the formation of a network for international nursing associations across the UK.