Posts by Joanne McDonnell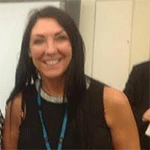 A published writer and book reviewer with a Masters in Research in Health Sciences, Joanne is Senior Nurse for Mental Health in the Nursing and Midwifery Team at NHS England.
She has won several national awards including Health Writer of the Year and Dementia Care Manager of the Year. She has also starred in numerous promotional nursing films and has been a regular contributor to various national media such as Radio 4.
A member of the Expert Advisory Board for RCN Mental Health Practice, Joanne has extensive experience of presenting at local, national and international conferences. She is currently undertaking a second Masters degree in Healthcare Leadership.