Posts by Jonathan Silverman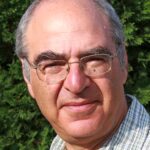 Jonathan Silverman is Honorary Professor of Academic General Practice at Deakin University, Australia and was previously Associate Clinical Dean at the School of Clinical Medicine, University of Cambridge. He has been actively involved in teaching communication skills since 1988 and in 1999 became Director of Communication Studies for the undergraduate curriculum in the University of Cambridge, which involves over 1000 half day small group sessions per year.
He is best known as one of the authors of the Calgary-Cambridge Guides to the Medical Interview, which provide a framework for describing the medical interview and establishing a comprehensive set of skills referenced to the current evidence. He has also co-authored two companion books with Suzanne Kurtz and Julie Draper, "Teaching and Learning Communication Skills in Medicine" (Radcliffe Publishing Second Edition 2005) and "Skills for Communicating with Patients" (Radcliffe Publishing Third Edition 2013). In 2005, he founded the UK Council for Communication Skills Teaching for all 33 UK medical schools and is a Past-President of EACH: International Association for Communication in Healthcare. In 2015, he was awarded the Lynn Payer award 'for outstanding contributions to the literature on the theory, practice and teaching of effective health care communication and related skills' from the American Academy of Communication in Healthcare.