Posts by Karen Dorey-Rees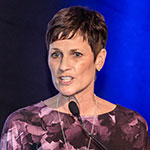 Karen Dorey-Rees is the Assistant Director for Specialist Services in Kent and Medway NHS and Social Care Partnership Trust. Karen qualified as a mental health nurse in 1989 and since then has worked in a variety of clinical and operational management roles in the South East of England.
Throughout her career Karen has been involved in developing services and has lead on key projects within adult mental health community and inpatient services to support the transformation of services to ensure improvements in the quality of care.
Over the past 2 years Karen has taken a lead role in the development of Perinatal Mental Health Services. This has included major expansion of the Community Perinatal Mental Health Services in Kent and the successful development of a perinatal mental health Mother and Baby Unit to serve women from across Kent, Surrey and Sussex. Karen champions the involvement of service users and carers and co-production has been at the heart of these service developments and continues with subsequent service delivery.