Posts by Matt Neligan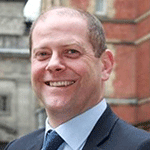 Matt Neligan is Director of System Transformation at NHS England.
Matt leads the national team supporting the development of Integrated Care Systems, working alongside regional directors and wider teams to help transform how local services can join up care and deliver improved population health outcomes. He and his teams help to ensure that integrated care systems enable NHS organisations to work in partnership with local councils and others, to take collective responsibility for managing resources, delivering the Long Term Plan, and improving the health of the population they serve.
Matt has over twenty-five years of experience in leading teams across the NHS to make a difference to services and to improve outcomes for patients and communities. He has worked in local NHS organisations across Yorkshire, London and the South East, principally in commissioning and also in acute hospital management, primary care and integrated roles across the NHS and local government. Before joining NHS England he led data and analytical teams in NHS Digital to transform the way in which data is harnessed for improving health.