Posts by Professor Laura Serrant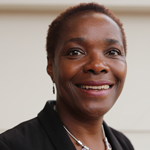 Professor Laura Serrant is Professor of Nursing in the Faculty of Health and Wellbeing at Sheffield Hallam University, one of only 6 black Professors of Nursing (out of 262) in the UK. She was also one of the first to qualify as a nurse with a Bachelor of Arts degree.
She has frequently found herself as the sole voice representing nurses and minority communities; a position which she has striven to challenge throughout her career by empowering others to come forward to join her, in a unique call to 'lift as you climb'. She is one of the 2017 BBC Expert women, Chair of the Chief Nursing Officer for England's BME Strategic Advisory group and a 2017 Florence Nightingale Scholar. She is an ambassador of the Mary Seacole Memorial Statue and the Equality Challenge Unit Race Equality Charter for Higher Education.
Her work has been recognised with numbers awards and prizes, including Queens Nurse status and Fellowship of the Queens Nursing Institute to those who have shown leadership in community nursing. In 2014, she was named as one of the top 50 leaders in the UK by The Health Services Journal in three separate categories: Inspirational Women in Healthcare, BME Pioneers and Clinical Leader awards.
Professor Serrant has an extensive experience in national and international health policy development with particular specialist input on racial and ethnic inequalities and cultural safety.
In 2010, she was appointed to the UK Prime Minister's commission for the review of Nursing and Midwifery by the Department of Health. As a member of the Independent Advisory Group to the UK government on Black and minority ethnic issues, she was a key influencer in the development of the first national strategy for sexual health and HIV for England 2001. In 2015, she lead the work at NHS England, Nursing Directorate as Head of Evidence and Strategy, evaluating the three year national nursing strategy and informing development of the new national approach to work for nurses midwives and care staff in England which was launched in April 2016.
She is visiting professor at The University of the West Indies, The Faculty of Health Sciences at Dominica State College and Universidade Federal do Rio Grande Do Sul, Brazil and the Warsaw Medical University, Poland.
She holds an Honorary Doctorate in Education from the University of Abertay, Dundee, Scotland. She has also served as a Non-executive Director at Heart of England Foundation Trust and Skills for Health Academy, England.
Follow Professor Laura Serrant on Twitter – @lauraserrant