Posts by Rebecca and Colin Bowman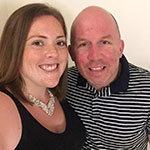 Bekki Bowman is a 30-year-old mum of two young children. Until recently she has been a stay at home mum, but has just begun a degree in adult nursing. Her experience of a mental health illness has spurred her to get involved with the development of perinatal services, and NHS development in general.
Bekki is excited to see where her degree will take her, and is looking forward to seeing her children grow and achieve new things.
Colin Bowman, 38, works across Lancashire for a charity called Ncompass. In his role he raises awareness of their Carer's hub project which provides support for unpaid carers.
Colin is passionate about a number of things, support for partners, mental health awareness, aeroplanes and Derby County Football Club.