Posts by Rhod Joyce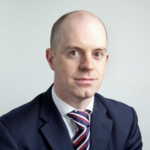 As Deputy Director of Innovation Development within the NHS Transformation Directorate, Rhod works to support the ecosystem in the development, assurance and deployment of digital tools and services at scale.
Key programmes include the Digital Health Partnership Award, the Digital Health Technology Assessment Criteria and drives support for patients to access digital health apps to support the management of long term conditions. He also leads the Transformation Directorate's Partnerships team.
He brings with him extensive experience from the private sector including politics and finance to media, marketing and creativity leading large scale digital transformation.
@rhodjoyce