Posts by Rob Webster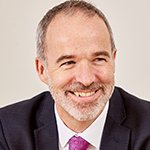 Rob joined South West Yorkshire Partnership NHS Foundation Trust as Chief Executive in May 2016 and is responsible for leading the organisation and its 4,600 staff. Rob is also the Lead Chief Executive for West Yorkshire & Harrogate Health and Care Partnership; this sees him bringing together West Yorkshire health and care leaders, organisations and communities to develop local plans for improved health, care and finances.
He has worked in healthcare since 1990, taking on national leadership roles in the NHS Confederation and the Department of Health on policy, transformation and delivery. He has also been a Director for both the Prime Minister's Delivery Unit in the Cabinet Office and a national public/private partnership.
Rob has been a successful Chief Executive in the NHS, running commissioning organisations and providers of NHS services. He has chaired formal Cancer, Primary Care, Community Trust and Learning Disability Networks. He has a history of effective partnership working and a strong commitment to system leadership.
Rob is a visiting Professor at Leeds Beckett University and was proud to be made a Fellow of the Queen's Nursing Institute in 2014. In May 2016, he became an Honorary Fellow of the Royal College of General Practitioners. Follow Rob @nhs_robw